This is a comprehensive and thorough analysis of the issues with students using the iPad as a reader. It is written by Annette Lamb an educational consultant who has taught both at a K/12 and at a University level. There are some interesting points here that I had not considered prior to reading this article. It is one of the first academic referenced articles that I have come across that so clearly and concisely highlights the use of interactive books on the ipad in education.
Annette discusses the five main issues with students using the iPad as a reader. These include;
Ease of use of the Devices
A listing of Resources available
Educational benefits
Motivation
Approaches to using Tablets.
This would be a must read article for anyone writing a proposal/grant submission for utilising iPads in the classroom or someone trying to convince their administrators of the educational benefits of using iPads in the classroom. We thank Annette for sharing this with us. Be sure to visit her site. It makes for interesting reading.
READING IN IPAD TRANSMEDIA UNIVERSE: FIVE REAL-WORLD ISSUES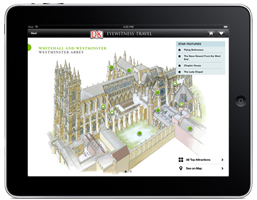 Technology in the classroom is changing how children learn and how we teach. While some children are reading books about castles, others are using the
DK Eyewitness App
to explore castles.
In her article Digital Literacies, Lotta Larson (2009, p.255) points out the today's readers are "immersed in multimodal experiences and, consequently, have a keen awareness of the possibility of combining modes and media to receive and communicate messages. This awareness results in an urgent need for teachers and researchers to address the discrepancy between the types of literacy experiences students encounter at school (paper, pencil, and print texts), and those they practice in their daily lives outside the school environment (Web 2.0). One way to bridge such incongruity is to expand the types of texts students are exposed to and engaged with at school by turning attention to electronic books, or e-books".
Let's explore five real-world issues.
1 - THE DEVICES
The classroom of the future will be filled with devices that serve different purposes. There isn't one answer. Instead, there are many to fit different needs.
Kindles. A group of advanced readers are reading novels independently.
iPads. A reading group reads independently while the teacher works with another group.
iPod Touch. Students refer to a dictionary, vocabulary game, encyclopedia while working on a project.
Laptop. Students conducting research create a Glogster, interactive poster.
Desktop. A group sits together at one computer with a large monitor working on a video production.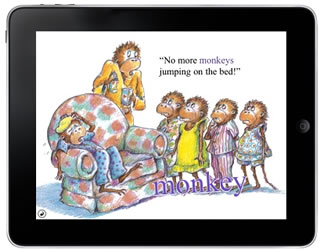 There are lots of ways to share Apps and e-books with the entire class.
You can hook up your device to the data projector. There are many foreign language books that are available as e-books. If you have the book on Kindle, use the Mac or Windows software to display on the big screen.
Barack Obama's
Of Thee I Sing: A Letter to My Daughters
is available in the Kindle book format. For more examples, go to Amazon's
Children's eBooks
section. This book can be read on a Kindle, however it can also be read on an iPad or computer desktop. If you connect your computer or iPad to your data projector you can see the book in color.
Portability. I take my ibird books with when I go bird watching. With my tracks app, I can easily identify animals. Larson (2010) noted that in early studies of e-books read on larger computers, participants often complained of discomfort. However no complains were logged with the new, smaller e-book readers.
Goldsborough (2010 , p.11) pointed out the new digital readers combine the portability of books with the "search and storage capabilities" of computers.